The Roots of the Matrix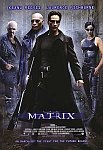 The Matrix trilogy has become a cult film not only among traditional science fiction fans but also among philosophers, scientists and spiritualists of all kinds and denominations.
The Roots of the Matrix is a 2 part documentary about the film and its relationship to philosophy, science, religion and spiritality.
The discussion is broad, and explains how masterfully and seamlessly the movie touches on everything from Socrates, Plato, Descartes, Berkeley, Kant, Nietzsche, Baudrillard, Borges, Nozick, LaPlace, Hume, Schopenhauer to religion, meaning, purpose, causality, free will, consciousness, love, intuition, etc.
Disclamier: This documentary is reuploaded for educational and commentary purposes for the benefit of academic circles and the general public on youtube. This would likely fall under the fair use clause.
The Hard Problem of AI: The Science Behind The Fiction
Do you want to sumbit your own singularity content?
Do you agree or disagree with the content of this page? Do you want to improve it? Do you want to post some great singularity content of your own? Why not share it here at Singularity Symposium?!