Who was Alan Turing?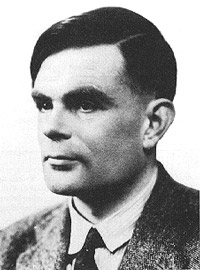 Alan Turing was a brilliant British mathematician often considered to be the father of modern computer science. During the Second World War he worked for the British government at Bletchley Park and was the man largely credited with breaking the German Enigma machine cryptographic code. He was also a crucial figure behind the development of the so called Turing-Welchman Bombe which was an electro-mechanical type of a computing machine.
After the war Alan famously predicted that computers would one day play better chess than people and in 1950 published an article titled Computing Machinery and Intelligence where he introduced what he believed to be a practical test for assessing computer intelligence. (aka the Turing Test)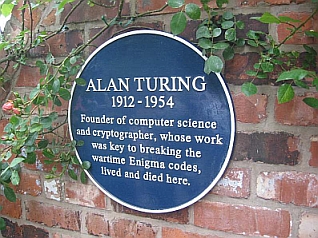 Alan Turing was a homosexual and, unfortunately, was convicted for indecency in 1952 because his homosexual relations were illegal in Britain at the time. He was forced to undergo chemical castration and as a side effect grew breasts. After his conviction, his security clearance was revoked and his reputation was destroyed.
Unable to bear anymore humiliation, Turing committed suicide on June 8, 1954 by allegedly biting an apple which he laced with cyanide. (It is in his honor that Apple's logo today is a half bitten apple)
See also:
Alan Turing on BBC History
Alan Turing short BBC Biography
BBC Calls for pardon for code-breaker Turing
British PM Gordon Brown apologizes for Alan Turing persecution
Do you want to sumbit your own singularity content?
Do you agree or disagree with the content of this page? Do you want to improve it? Do you want to post some great singularity content of your own? Why not share it here at Singularity Symposium?!