The Change Agent: Onwards to Utopia or backwards to the Dark Ages?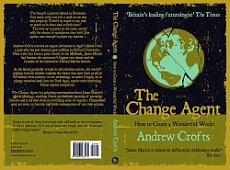 "I have just bought an island in Bermuda. You must come out there so we can talk properly."

James Martin ("Britain's leading futurologist," according to The Times, and my protagonist "Change Agent"), knows how to catch a person's attention.

Partly because of the imminent arrival of the Singularity, he believes we are entering the greatest transitional phase of human development ever and that by the end of this century we will either have created a global Utopia or we will have catapulted ourselves back into the Dark Ages. So steeped is he in the subject he has become Oxford University's biggest ever donor by gifting them well in excess of 100-million British Pounds in seed money to set up the Oxford Martin School to study all the big issues of the 21st Century.

When it comes to creating Utopia Jim is well ahead of the game. Over the last thirty or so years he has roamed the world as a sort of freelance professor, studying, lecturing and writing on technology and the future and has amassed enough of a fortune to create eight acres of ecological paradise on his private island.

Now in his late seventies he is anxious to spread the message outside the relatively closed circles of academia, big business and technology enthusiasts and the invitation was proffered because he wanted an opportunity to convince me that I should write about it.

The resulting book, The Change Agent: How to Create a Wonderful World

, is partly the story of how a shy boy from a poor family grew to be in the position that he finds himself today, partly the story of the island and the extraordinary secrets that Jim discovered beneath its rocks and undergrowth, but mainly a series of conversations with the man about the things he has learned and the way he believes the rest of this century is going to pan out now that the Singularity is upon us.
About the Author:
Andrew Crofts - the king of British ghostwriter... has ghosted a staggering number of books... Crofts has spent a lot of time thinking about the nature of ghostwriting - what it takes to find another person's voice... a one-man word factory. (Helen Brown, Daily Telegraph)
Do you want to sumbit your own singularity content?
Do you agree or disagree with the content of this page? Do you want to improve it? Do you want to post some great singularity content of your own? Why not share it here at Singularity Symposium?!