Who is Vernor Vinge?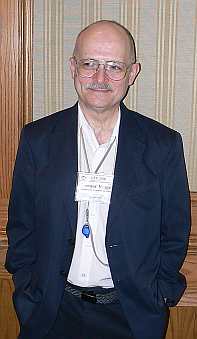 It was Hugo Award winner Vernor Vinge who coined the term technological singularity in his science fiction novel Marooned in Realtime.
Arguably the second most recognized singularitarian, Vernor Vinge spent most of his life in San Diego, California where he taught mathematics and computer science at San Diego State University for over thirty years and where he still lives today.
After retiring from teaching Vernor became widely sought as a public speaker and presenter for business, science, science fiction and general audiences. He has won Hugo Awards for several of his books such as: A Fire Upon The Deep(1992), A Deepness in the Sky(1999) and for the novella Fast Times at Fairmont High(2001).
Known for his rigorous hard-science approach Vinge first became an iconic figure both among cybernetic scientists and sci fi fans with the publication of his 1981 novella True Names, widely considered to be the visionary work behind the internet revolution. Later he gained even more public attention for his coining the term, writing and presenting about the technological singularity.
Do you want to sumbit your own singularity content?
Do you agree or disagree with the content of this page? Do you want to improve it? Do you want to post some great singularity content of your own? Why not share it here at Singularity Symposium?!
What Other Visitors Have Said
Click below to see contributions from other visitors to this page...