Transcend Book Review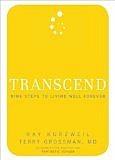 In 2004, Ray Kurzweil and Terry Grossman, MD, published Fantastic Voyage: Live Long Enough to Live Forever . Their groundbreaking book marshaled thousands of scientific studies to make the case that new developments in medicine and technology will allow us to radically extend our life expectancies and slow down the aging process.
Soon, our notion of what it means to be a 55-year-old will be as outdated as an eight-track tape player.
Transcend: Nine Steps to Living Well Forever presents a practical, enjoyable program so that readers can live long enough (and remain healthy long enough) to take full advantage of the biotech and nanotech advances that have already begun and will be occurring at an accelerating pace during the years ahead.
To help readers remember the nine key components of the program, Ray and Terry have arranged them into a mnemonic:
Talk with your doctor
Relaxation
Assessment
Nutrition
Supplements
Calorie reduction
Exercise
New technologies
Detoxification
This easy-to-follow program will help readers transcend the boundaries of our genetic legacy and live long enough to live forever.
Socrates verdict: 9 out of 10
Do you want to sumbit your own singularity content?
Do you agree or disagree with the content of this page? Do you want to improve it? Do you want to post some great singularity content of your own? Why not share it here at Singularity Symposium?!