The Meaning of the 21st Century (a film by James Martin)
James Martin's documentary The Meaning Of The 21st Century is based on his titular book

and is aimed to provide what James calls A Vital Blueprint for Ensuring Our Future

.
In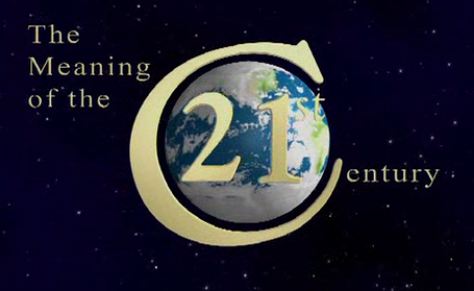 his 1 hour documentary Martin catalogues all the major perils and promises that humanity faces in the 21st century. In addition, he doesn't forgo issues arising from advances in the fields of artificial intelligence, genetics, robotics and nanotechnology, or interviewing other futurists, scientists, inventors, singularitarians and transhumanists such as Ray Kurzweil, Hugo de Garis, Nick Bostrom and others.
The video is narrated by Michael Douglas and I think it is well worth watching.
Synopsis: We are at an extraordinary crossroads of human history. Our actions, or failure to act, during the next 20 years will determine the fate of the Earth and human civilization for centuries to come. This is a make-or-break century.
Humanity's demands for affluence are growing rapidly. If we are able to make the planet work, as shown in this film, we face a magnificent future. If we fail, we could be headed for a new Dark Age.
Shot in all six continents, the film looks at the massive problems in the decades ahead. The public is aware of some of the effects of global warming and climate change. There are many other megaproblems, some more dangerous or debilitating. The good news is that there are solutions.
Innovative thinking, cooperation around the world and exciting technologies are providing answers. Whether the future is bleak or of unimaginable opportunity, depends upon education and political will.
As we learn to understand this century and play its complex game, we can chart extraordinary futures. Today's young people must be given the confidence to transform their lifestyles, the environment and Homo sapiens itself. We can create civilizations more magnificent than anything yet conceived. We need the political will to transform our world rather than wreck it.
Young people everywhere need charts of the worldscape ahead. They, collectively, will be responsible for the greatest transition in human history.
THIS FILM IS ABOUT THE MOST VITALLY IMPORTANT SUBJECT OF OUR TIME
Adobe Flash and Javascript are required to view this video.
Do you want to sumbit your own singularity content?
Do you agree or disagree with the content of this page? Do you want to improve it? Do you want to post some great singularity content of your own? Why not share it here at Singularity Symposium?!