Tron
The long awaited sequel to the classic cult sci fi movie Tron is coming in 3D later on this year.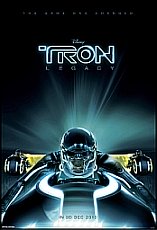 Synopsis: TRON LEGACY is a 3D action-packed adventure set in a digital world unlike anything captured on the big screen. Sam Flynn (Garret Hedlund), a rebellious 27-year-old, is haunted by the mysterious disappearance of his father Kevin Flynn (Jeff Bridges), a man once known as the world's leading video game developer. When Sam investigates a strange signal sent from the abandoned Flynn's Arcade -- that could have only come from his father -- he finds himself pulled into a world where Kevin has been trapped for 20 years. With the help of the fearless warrior Quorra (Olivia Wilde), father and son embark on a life-or-death journey across a visually-stunning digital universe -- created by Kevin himself -- which has become far more advanced with never-before-imagined vehicles, weapons, and landscapes and a ruthless villain who will stop at nothing to prevent their escape.
Presented in Disney Digital 3D and scored by Grammy Award-winning electronic music duo Daft Punk, TRON: LEGACY hits theatres on Dec 17, 2010.
For those who simply can't wait, I am posting 2 official trailers for Tron Legacy.
For those who haven't seen the 1982 Tron classic: It is time to fill in the gap. You can start by checking out the Tron movie trailers bellow.
Tron 3: The Next Day (10 min teaser trailer)
Tron Legacy Trailer 1
Tron Legacy Trailer 2
Tron 1982 newly remixed trailer.
This video was remixed by DrewboiX who "Wanted to make a exciting trailer with a modern feel as oppose to its original marketing in the 80s."
The Original Tron Movie Trailer
Socrates' Verdict: 9.5 out of 10 (You simply must see the original before watching the sequel!)
Tron Evolution: the Game Trailer
Do you want to sumbit your own singularity content?
Do you agree or disagree with the content of this page? Do you want to improve it? Do you want to post some great singularity content of your own? Why not share it here at Singularity Symposium?!