Blinky, a film by Ruairi Robinson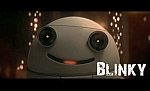 Blinky is the new short science fiction movie by Irish film-maker Ruairi Robinson. It tells the sad and scary story of a young boy's family home robot given to him as a Christmas present.
According to the manufacturer Blinky is a "servant, helper and friend" who brings families closer together. Yet what happens in reality is rather different.
The film portrays the dysfunctional emotional relationship between the two parents and especially its impact on the boy, and, eventually on Blinky. It depicts robots as a mirror image of our imperfect humanity, with all of its faults and failures. Unsurprisingly the AI cannot stay forever insulated from its abusive environment and eventually starts reacting to it... though it leaves us wondering if, in the end, it is Blinky that got "broken" or if it is somehow us...
Socrates' verdict: 10 out of 10
"Soon every home will have a robot helper. Don't worry. It's perfectly safe."
Do you want to sumbit your own singularity content?
Do you agree or disagree with the content of this page? Do you want to improve it? Do you want to post some great singularity content of your own? Why not share it here at Singularity Symposium?!