What is a Cyborg?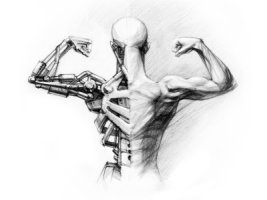 The term cyborg was coined in 1960 by Manfred Clynes and Nathan Kline in referrence to their conception of an enhanced human being who could survive in extraterrestrial environments. Their concept was the outcome of thinking about the need for an intimate relationship between human and machine as the new frontier of space exploration was beginning to take place. Thus cyborgs possess physical or mental abilities far exceeding those of humans.
A cyborg is an organism consisting of both artificial and natural systems combining into what amounts to a man-machine i.e. part human and part machine.
The Oxford English Dictionary gives the following definition:
[Blend of CYB(ERNETIC a. and ORG(ANISM.]
"A person whose physical tolerances or capabilities are extended beyond normal human limitations by a machine or other external agency that modifies the body's functioning; an integrated man-machine system."
Chris Gray gives the following defintion in his book Cyborg Citizen: Politics in the Posthuman Age

"A cyborg is a self-regulating organism that combines the natural and the artificial together in one system."
In 2002, under the heading Project Cyborg, a British scientist and university professor, Kevin Warwick, had an array of 100 electrodes fired into his nervous system in order to link it to the internet. Then he successfully carried out a series of experiments including extending his nervous system over the internet to control a robotic hand, a loudspeaker, amplifier and to communicate with his wife. This is a form of extended sensory input and the first direct electronic communication between the nervous systems of two humans. (For more watch the documentary Building Gods)
Beyond Human(full documentary)
The main issues here are:

Where do we draw the line between Man and Machine?

Can we differentiate between an "enhanced" human (e.g. a person with an artificial limb or a heart pacer) and a cyborg?

If the answer is yes, then how do we do that?

What, if any, are (or ought to be) the legal, moral, ethical and political differences between humans and cyborgs?

Are cyborgs the transitional step between humans and Artificial Intelligence?
Do you want to sumbit your own singularity content?
Do you agree or disagree with the content of this page? Do you want to improve it? Do you want to post some great singularity content of your own? Why not share it here at Singularity Symposium?!