Marooned in Realtime Book Review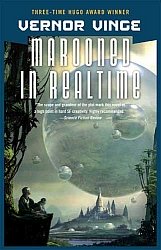 Hugo Award winner Vernor Vinge introduced the term Technological Singularity in his science fiction novel Marooned in Realtime.

The book is a post-singularity sci fi detective story set 50 million years into the future on planet Earth where only 300 humans have survived. The remaining survivors are divided into two bitterly opposed fractions debating whether it is better to settle in and try to resurrect mankind or to continue venturing into the future by using high-energy stasis fields called "bobbles." After a human is murdered the last cop left on Earth is investigating the crime in a trust-no-one environment which could spell the utter extinction of man.
The book does not delve directly into the concept of the technological singularity but uses it as a mysterious precursor to the events of the novel. Never-the-less, in a sense it is "the original" singularity book and will delight not only sci fi fans but also detective-story-lovers and people generally interested in the technological singularity. It well worth reading because it not only coined the term and introduced it successfully to the public but did so with a highly original plot full of unpredictable turns and interesting revelations.
Socrates' verdict: 8.5 out 10
Do you want to sumbit your own singularity content?
Do you agree or disagree with the content of this page? Do you want to improve it? Do you want to post some great singularity content of your own? Why not share it here at Singularity Symposium?!