Who is Peter Diamandis?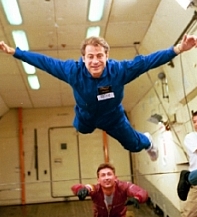 Peter Diamandis was born of Greek immigrant parents in 1961 in the Bronx, New York. He attended the Massachusetts Institute of Technology, where he received his undergraduate degree in molecular genetics and graduate degree in aerospace engineering.
After MIT, Peter attended Harvard Medical School, where he received an M.D. and in 2005 he was awarded an honorary Doctorate from the International Space University.
Dr. Diamandis is considered to be a key figure in the development of the personal spaceflight industry. He is the Founder and Chairman of the X PRIZE Foundation - an educational non-profit institute, focused on developing large incentive prizes to bring about radical breakthroughs for the benefit of humanity in fields such as Genomics, Automotive, Education, Medicine, Energy and Commercial Space Exploration.
Peter is also the co-Founder and Managing Director of Space Adventures - the only private company to send private citizens to the International Space Station aboard the Russian Soyuz Spaceship, and the CEO and co-founder of Zero Gravity Corporation, which offers parabolic weightless flights to the general public.
More recently, he has created the Rocket Racing League and Co-Founded the International Space University and the Singularity University.
A self-admitted nine-year-old child-space-enthusiast, Dr. Diamandis is a visionary who dreams big and has the resume to prove that "the best way to predict the future is to create it yourself."
Do you want to sumbit your own singularity content?
Do you agree or disagree with the content of this page? Do you want to improve it? Do you want to post some great singularity content of your own? Why not share it here at Singularity Symposium?!