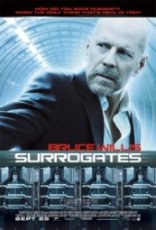 Surrogates is a futuristic sci fi movie set in a time when the vast majority of humanity does not have to leave their homes and risk the dangers of the world. Instead people can stay in bed and through a clever human-machine neurotech interface can control the telepresence of a surrogate robot that can act as their real world avatar. (Imagine Second Life in-the-real-world-type movie)

Surrogates is a well written and directed movie supported by a notable group of actors headed by Bruce Willis. The movie raises a variety of important practical as well as ethical issues about the use of telepresent robots as avatars, the progress, promise and risks of advanced neuroscience technology and the essence of being human. It also shows the potential for a rift within the ranks of humanity as different groups of neo-luddite technophobes and transhumanist technophiles form around different answers to the above questions.




Socrates' verdict: 8 out of 10





Do you want to sumbit your own singularity content?
Do you agree or disagree with the content of this page? Do you want to improve it? Do you want to post some great singularity content of your own? Why not share it here at Singularity Symposium?!