the Singularity is Near Movie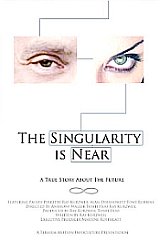 The Singularity is Near: A True Story about the Future, a compelling feature-length documentary film, directed by Anthony Waller, written by Ray Kurzweil, and produced by Ray Kurzweil, Ehren Koepf and Toshi Hoo, explores the controversial ideas of luminary Ray Kurzweil, based on his New York Times best-selling book by the same title.
For more than three decades, inventor, futurist, and author Ray Kurzweil has been one of the most respected and provocative advocates of the role of technology in our future. The film presents the daring arguments from Kurzweil's book where he predicts that with the ever-accelerating rate of technological change, humanity is fast approaching an era in which our intelligence will become increasingly merged with computers and trillions of times more powerful. This will be the dawning of a new civilization, enabling us to transcend our biological limitations. In Kurzweil's post-biological world, boundaries blur between human and machine, real and virtual. Human aging and illness are reversed, world hunger and poverty are solved, and we cure death. He maintains a radically optimistic view of the future course of human development while acknowledging new dangers.
Kurzweil examines the social and philosophical implications of these profound changes and the potential threats they pose to human civilization in dialogues with world leaders, such as former White House counter-terrorism advisor, Richard Clarke; technologists Bill Joy, Mitch Kapor, Marvin Minsky, Eric Drexler, and Robert A. Freitas, Jr.; Future Shock author Alvin Toffler; civil liberties lawyer Alan Dershowitz; and music luminary Quincy Jones. Kurzweil illustrates possible scenarios of his imagined future with narrative scenes starring popular NCIS actress Pauley Perrette and personal development guru Tony Robbins.
The Singularity is Near offers a view of the coming age that is both a dramatic culmination of centuries of technological ingenuity and a genuinely inspiring vision of our ultimate destiny.
Do you want to sumbit your own singularity content?
Do you agree or disagree with the content of this page? Do you want to improve it? Do you want to post some great singularity content of your own? Why not share it here at Singularity Symposium?!
What Other Visitors Have Said
Click below to see contributions from other visitors to this page...

Overoptimistic interpretation of statistics...






... cannot predict even possibilities, notwithstanding future reality. Maybe something similar might occur, but not in the way of technofiliac imagination. …
The Role of Black People in the Future. Not rated yet
Whenever these issues of the possible future facing humanity are discussed, analysed and concluded, the individuals who are primarily, and automatically …