What is a Robot?
The word robot was introduced in the 1920s by Czech writer Karel Čapek in his play R.U.R. (Rossum's Universal Robots).
The play was situated on an island-factory for "artificial people" that Čapek called robots. Čapek's "artificial people" could think autonomously for themselves, yet at least for a while they seemed to be happy serving their human masters.
According to Karel Čapek himself he was not the originator of the word. In a letter in reference to an article in the Oxford English Dictionary he named his brother, painter and writer Josef Čapek, as the person who actually coined the term.
In 1933 Čapek also explained that he had originally wanted to call the creatures labori (from the Latin for labour or work). However, he did not like the word, seeing it as too artificial, and sought advice from his brother Josef, who suggested "roboti" from the word robota meaning literally serf labor or "hard work" in Czech, Slovak and Polish, while the original meaning in Old Church Slavonic is rabota "servitude" (also "work" in modern Bulgarian and Russian).
One of the most famous humanoid robots is Honda's Asimo. Officially, the name is an acronym for "Advanced Step in Innovative MObility" and Honda claims that the name is not a reference to science fiction writer and father of the Three Laws of Robotics, Isaac Asimov.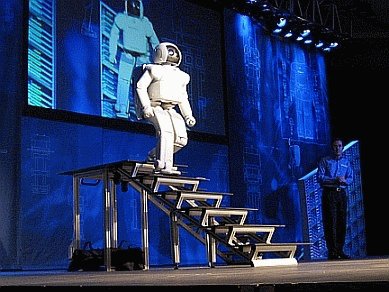 Some of the main issues here are:
Is it possible to build robots that match or exceed human intelligence?
How long before we do so?
Are they going to be the next step in evolution?
Do you want to sumbit your own singularity content?
Do you agree or disagree with the content of this page? Do you want to improve it? Do you want to post some great singularity content of your own? Why not share it here at Singularity Symposium?!